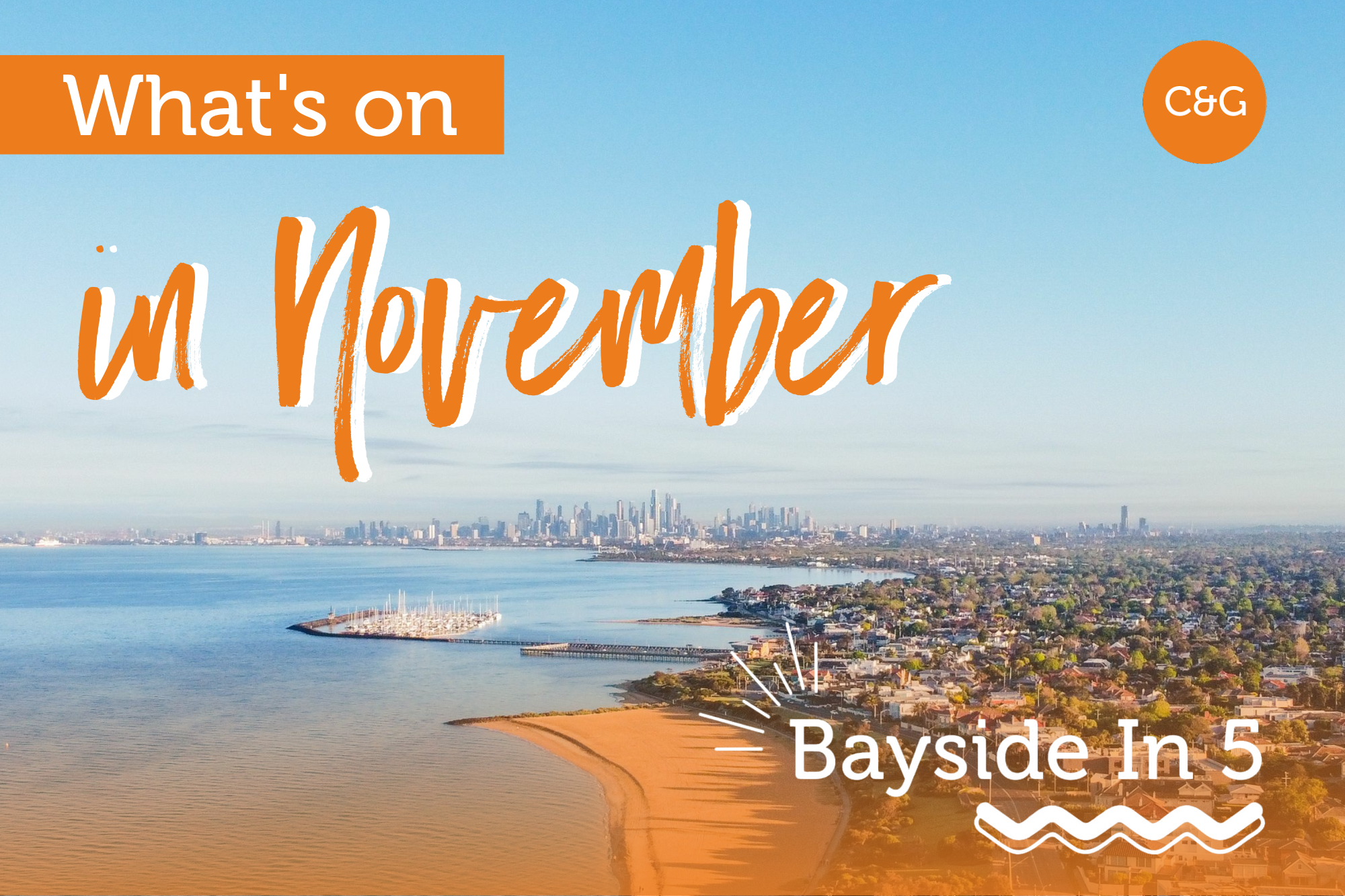 BAYSIDE IN 5 - What's on in November
Summer is just around the corner! As the sun comes out there are plenty of opportunities to enjoy not just the wonderful warm weather, but also appreciate all the fantastic things our bayside has to offer. In this week's blog, we have five fun, active and cultural activities happening by the bay:



Oaks Day at Bells Hotel
The Spring Racing Carnival is just a handful of days away, and it's time to don your fascinators, pick out a snazzy suit, and put your best foot forward! If you haven't snagged a ticket yet, fear not! Bells Hotel is fitting out its space to host every race day, including wine specials, cold beers, incredible food and the opportunity to watch races on the big screen!


Location: Bells Hotel - 157 Moray Street, South Melbourne
Times + Dates: 9th November, 12pm - 3pm
More information: https://bit.ly/45WaEgi



Meditate in Elwood
Are you looking to find inner peace and tranquillity, and an opportunity to breathe deep - and clear your mind? Then look no further than Elwood Neighbourhood House, the home of weekly guided meditation classes with teacher Kelsang Luma. No experience is required, all you need to bring is yourself, and a willingness to learn.


Location: Elwood Neighbourhood House - 87 Tennyson Street, Elwood
Times + Dates: Mondays, 7pm - 8:30pm
More information: https://bit.ly/3s6asgJ



Flashback Fridays
Sometimes we just want to kick back and let loose to the best hits of our younger years. No need to crack out the Discman, just skip on down to Trinity St Kilda every Friday night for a fun and carefree night full of nostalgic bops and funky beats!


Location: Trinity - 2 Brighton Rd, St Kilda
Times + Dates: Friday evenings, 8pm - late
More information: https://bit.ly/3sevMAq



Republica Beach Volleyball
Looking for a way to get active in the sunshine with friends? Why not sign up a team for beach volleyball at Republica? Get your blood pumping to some upbeat tunes in a fun and playful environment - then treat yourself to some delicious Republica pizza and Balter beer. Interested? The ball's in your court!


Location: Republica, St Kilda Sea Baths - 10/18 Jacka Blvd, St Kilda
Times + Dates: Tuesday, Wednesday + Thursday nights
More information: https://www.vicbeach.com.au/republica/



Design Fringe
Linden New Art is currently hosting a showcase of innovative Australian artists, encouraging the use of design to both create ideas and imagine possible futures - in its newest instalment 'Speculation: Eight Billion Little Utopias' - focusing on our society, community and looking into the potential future of design. There's a variety of works, programs and exhibitions to explore.


Location: Linden New Art - 26 Acland Street, St Kilda
Time + Date: running until 26th November
More information: https://bit.ly/3QEGBVL