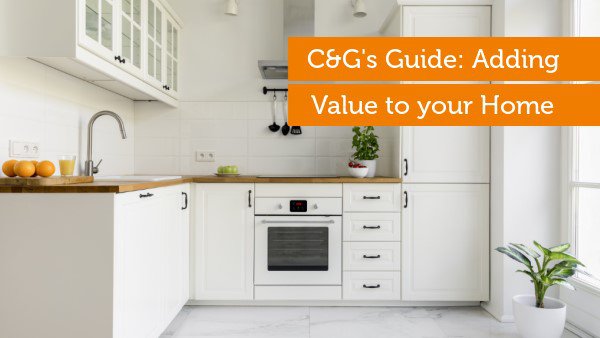 C&G's Guide: Adding Value to your Home
Are you thinking about selling your home? Or simply wish to improve its appeal? There are plenty of simple and cost-effective ways to achieve this without committing to an expensive and large-scale renovation. In this latest C&G blog, we list some ways you can add value to your home without spending too much money!
DIY if you can!
Put your skills to good use and complete the task yourself. Not only will you save on labour costs, but you'll be able to achieve an end product exactly the way you envisioned it.
Refresh the walls.
A fresh coat of paint could be all it takes to reinvigorate your space. You can use this opportunity to try a new colour scheme or wallpaper. However, if you are intending to sell your home, it's a good idea to keep your colours neutral. Potential buyers will prefer a blank slate in which they can envision their future.
Take it outside.
Your interiors may be in good shape, but what about your garden? With Summer in full swing, more attention will be drawn to your outdoor space. Invest in beautifying this space, by introducing outdoor furniture and a varied range of plant life.
Replace outdated fittings and fixtures.
This is a small upgrade that goes a long way. Your home may look great, but if your doors are creaky or taps are leaking, they may deter buyers at an open inspection. Even if you only replace your old tapware and handles, they will do wonders at improving your property's perceived value.
Think cosmetic.
Depending on your budget, any cosmetic changes will immediately give your home a facelift. This can include replacing old carpets or curtains with a contemporary design. If you're renovating to improve resale value, installing modern features such as a kitchen splashback or bathroom vanity will immediately impress buyers.
Re-grout old tiles.
We spend so much time in our bathrooms they're bound to experience some wear and tear. Re-grouting is a quick and cost-effective way to restore your bathroom tiles and add a much-needed shine. By assessing the condition of your tiles, you'll be able to keep on top of maintenance and avoid having to replace costly tiles!