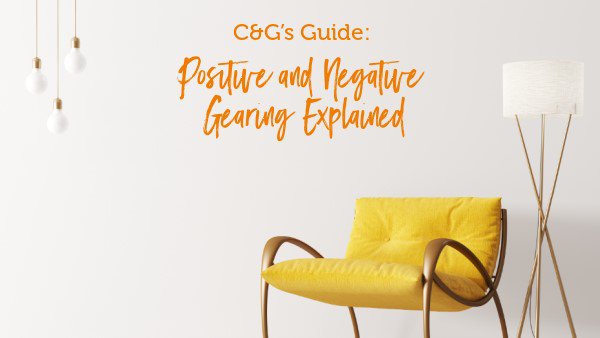 C&G's Guide: Positive and Negative Gearing Explained
Positive and negative gearing – what exactly do these two concepts mean? What are the benefits and disadvantages of having assets which are positively, or negatively geared, and which method is best for your property portfolio? We unpack the pros and cons of both strategies in this latest C&G blog.
Positive Gearing
This is when your investment property's income exceeds the costs associated with owning the property. These costs would include loan repayments, interest and out of pocket costs such as repairs or council fees. Ultimately, a positively geared asset is rewarding you with a net gain and positive cash flow.
This is the long-term goal for many investors, to achieve a rewarding return on their investment. They can increase their borrowing power using equity and cashflow to purchase new assets, continue building their portfolio, or upgrade their lifestyle.
Negative Gearing
On the other hand, a negatively geared property costs more than the income it generates. Negative gearing is a common strategy, but one that still carries an element of risk as owners are relying on their asset's capital value to grow. Some investors choose to negatively gear as they can claim their losses when tax time arrives and reduce their taxable income.
Which strategy should I choose?
The answer will depend on your goals and purposes for investing. People who opt for positive gearing will enjoy the benefits of building their wealth. However, they will be required to pay higher taxes and property values and interest rates can always change. Those with an established cash flow may be able to commit to negative gearing to be compensated by capital growth. Some investors will have both types to maintain balance over their portfolio.
Before committing to an investment strategy we highly recommend engaging with a trusted broker or financial planner. The friendly team at Chisholm and Gamon can also refer you onto our extensive network of brokers and financial planning experts. Talk to us today!