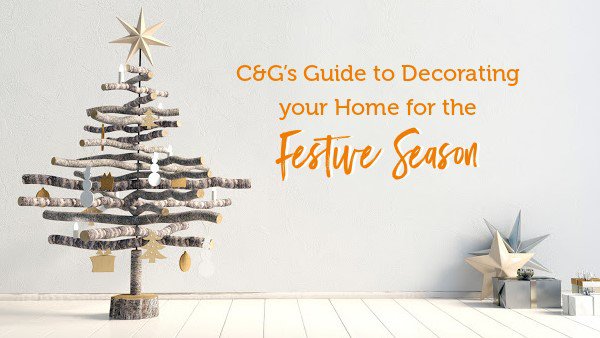 C&G's Guide to Decorating your Home for the Festive Season
The silly season is well and truly upon us, and nothing is merrier than spreading some Christmas cheer around your home! If you haven't already, it's time to deck your halls with some festive style. In today's blog, C&G highlight some of our best tips for decorating your home over the holiday season. 
 O Christmas Tree! 
The tree traditionally comes first when decorating! Whether you opt for the real thing or a low-maintenance artificial one, make sure you measure up. You don't want a tree too small that it makes your space look unfurnished but too large that it's overcrowded. 
With 2021 on the horizon and Christmas flashing before our eyes, the big old question is when should you take the tree down? According to Good House Keeping, enjoy it as long as you like or stick to tradition by taking it down on the 5th of 6th of January.
Layer It
Everyone's taste is different, which is especially true when it comes to decorating for Christmas. Whether you're nuts for tinsel, love a good light show or believe less is more, this Better Homes and Gardens has the answers for decorating and sprucing your tree to perfection. 
All in the Details
Whether you've placed mistletoe at your door, hung a wreath or included some festive scatter cushions, adding subtle hints of the holidays around the home will certainly brighten spirits. Kmart has curated some Christmas themes to suit every style and budget, while Myer also offers a great range of festive home décor. 
DIY Time
DIY has been a common theme throughout 2020, so why not carry that tradition into Christmas! Try creating a homemade wreath for your front door or invest in eco-friendly gift wrap options. You can make it exactly how you envisioned for a fraction of the cost! 
Christmas Lunch 
Let's face it, most of us are already thinking about plum pudding and Christmas ham! That doesn't mean you shouldn't forget your dining table when it comes to decorating. If you're looking to go one step above a festive Christmas tablecloth, Town & Country has advice on adding an extra something to your dining experience with an elegant and merry table when your loved ones visit.