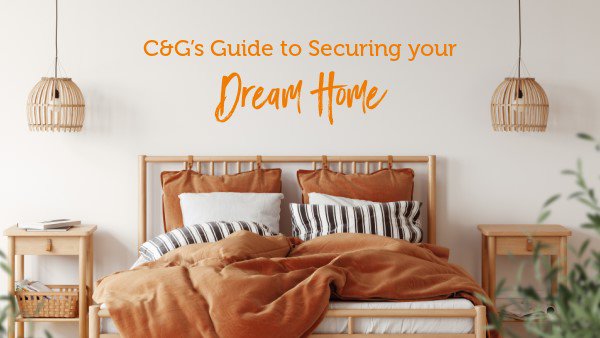 C&G's Guide to Securing your Dream Home
Ready to buy a home and call it your own? Home ownership is truly an exciting milestone – we should know! It's a big purchase, so it's only natural you want a home that ticks all the boxes. In this C&G blog, we unpack everything you need to know about securing your dream home!
Plan and research
What exactly is a dream home? It's different for everyone, so begin with a list of features that are important to you. Do you need an adequate work-from-home space, or plenty of bedrooms to accommodate your growing family? You should also consider the areas you'd like to live in, even narrowing your search down to street names! Once you have this information you can determine your budget and how much your deposit could be.
Crunch the numbers
Get your 'finance ducks' in a row before you start searching. You don't want to discover the perfect home, only to find it's outside your price range! There are several costs you will need to prepare for, including your deposit, mortgage repayments and stamp duty. To get a better idea, this C&G blog outlines the most common costs to home ownership!
Speak to an expert
During your planning stage, it always helps to reach out to industry professionals. Local estate agents can provide valuable insights on different neighbourhoods, giving you a sense of its character and lifestyle. You can discuss your criteria and receive an alert when your dream home enters the market. Purchasing property can become competitive so it's always valuable to have a local agent on your side!
Take action
Once you know what you want, the fun begins! When attending inspections, use the opportunity to speak to the agent and express your interest. We often recommend getting your home loan pre-approved so you can negotiate more confidently. The seller will also be impressed with your preparation and view you as a serious buyer. Need more advice? This C&G blog is full of excellent tips on presenting the best offer.
Thinking about entering the market? Don't hesitate to reach out to the expert team at Chisholm & Gamon for advice. We live and breathe real estate, and would love to answer your questions!