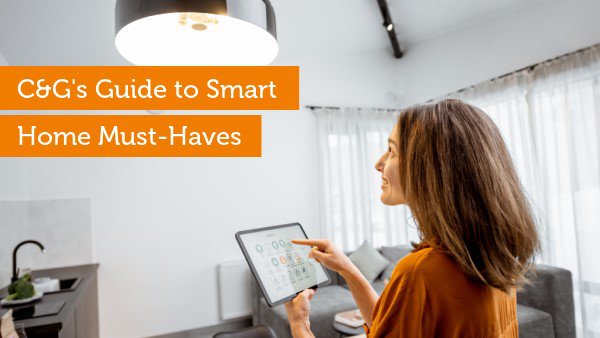 C&G's Guide to Smart Home Must-Haves
Smart home systems are one of the best ways to personalise your space as well as control your energy usage. From ensuring the temperature is just right to streaming music all day long, you can complete multiple tasks by simply tapping a button. With more technology and digital tools at our disposal, there are plenty of exciting and affordable ways of integrating convenience and comfort. This latest C&G blog lists all your smart home essentials.
Smart Locks and Home Security
Are you someone who constantly forgets the keys? Even if it happens once in a blue moon, you'll be thankful you can still enter your home through a smart lock system that's unlocked via a code or smartphone. That being said, home security is just as important! With a digital security system set up, you'll have peace of mind whether you're at work or travelling for a holiday.
Smart heating and cooling
Heating and cooling often make up a big proportion of your energy bills. However, with smart technology it is easier to measure your usage and manage it accordingly. How about automatic blinds that close when the temperature reaches a certain point? You'll come home to a space that is comfortable and relaxing.
Sensors and timers
Installing lighting sensors and timers ensure no lights are unintentionally left on. Alternatively, you can integrate a 'all-off' switch that turns everything off when you go to sleep or leave the house.
Smart technology is the first step to modernising your home and leading an energy-efficient lifestyle. Not sure where to start? We recommend the Wiser Energy Management system from Clipsal. You'll enjoy 24/7 visibility of your home's systems, and know exactly where your energy inefficiencies are produced. With a dedicated app for tracking your energy consumption, you'll be able to reduce your utility bills in the long run!
We also love the customisation and design choices that come with installing a smart home system. Clipsal also offers a wonderful range of sleek accessories and devices that can help you personalise your space. Check them out here!