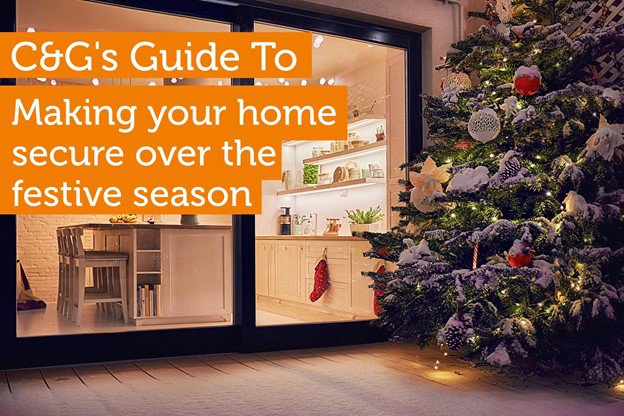 C&G's Guide To Making Your Home Secure Over The Festive Season
Did you know that someone is burgled in Australia every three minutes?! Without an adequate security system in place, a skilled criminal can be in and out of your home in just five minutes. The festive season is notorious for home burglaries. With so many of us either on holiday or distracted by all the celebrating, it's a golden opportunity for thieves looking to capitalize. To keep your family and your belongings safe, it's essential to make sure that your home is secure both when you're home, and when you're away.
This C&G Blog offers 5 tips to keep your home secure this holiday season!
1. Talk to your neighbours
It really pays to get to know your neighbours! If you're going away for the holidays (even if it's only a few days!) - most people would be more than happy to keep an eye on your property in exchange for a bottle of wine or a box of chocolates, or even just the promise that you're more than happy to return the favour. Simple acts like watering your plants or checking your mail will help to deter thieves, who are more likely to break into a property that they believe to be unoccupied (we all remember Home Alone, right?!) So next time you see your neighbour, be sure to say hello - it could save you thousands of dollars!
2. Leave a clear line of sight from your street into your house
While it might seem like this is presenting thieves with an open invitation, they will actually be more attracted to properties with plenty of trees, shrubbery and other hidden spaces to help conceal them while they work. If your house has a clear view from the street, they're more likely to arouse attention - even at night. If you don't want to part with your plants, leave a few of your blinds and curtains open while you're away to give the impression that you're still home (preferably rooms that don't have expensive items like televisions or computers in clear view.)
3. Bring your valuables inside
Don't tempt fate! Even if your bike is locked up, leaving it out the front or at the side of your property will prove an easy challenge to a determined thief. Bring any items like barbeques or expensive garden tools inside and lock them away out of sight.
4. Leave a light on
It's the oldest trick in the book! Leave a light on so that thieves assume you're at home. Nowadays you don't even need to leave your lights on for very long! Invest in smart globes that can be controlled via an app using your phone, so you can turn the lights on for a few hours in the evening. If you want to go the extra mile you can even program your radio and TV to turn on, too! If you're less tech-savvy, leaving an old pair of shoes at the front door should also do the trick.
5. Install or update your security system
At the end of the day, a house alarm is still the best investment you can make for the safety and security of you and your family. We might have all become slightly more relaxed with setting our alarms during Melbourne's lockdown, but before you go away make sure you check that everything is in working order. You'll also never regret installing security cameras at your front door. There are several affordable wireless options available on the market that you can operate from your phone with very little hassle! The installed motion sensors will let you know straight away if there is any unusual activity occurring in your home (or if you have a ghost!)
If you're a homeowner, it's well worth the investment to have Crimsafe screens installed in your home to keep you protected all year round!