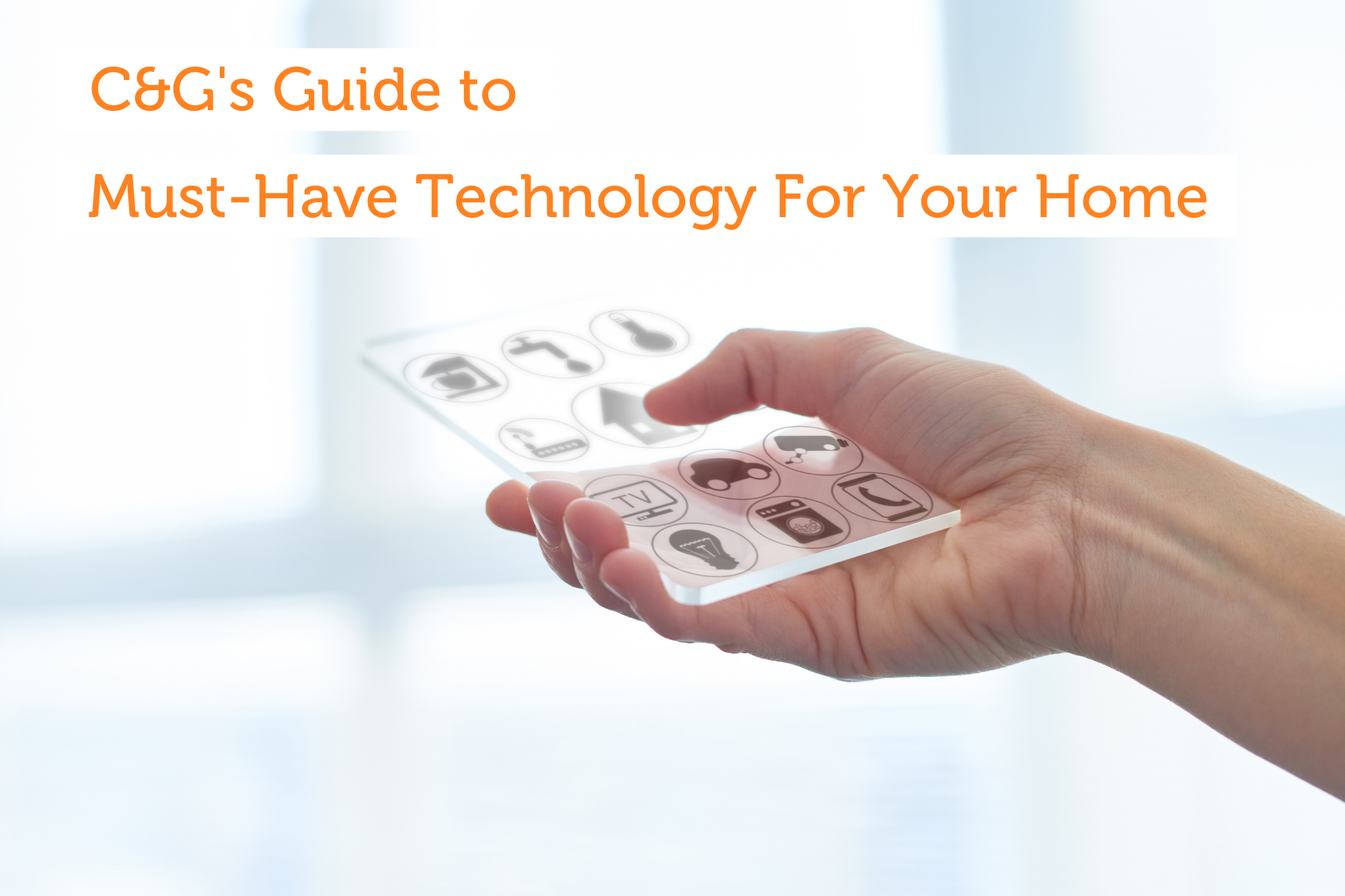 C&G's Guide To Must-Have Technology For Your Home
Alongside the creation of smartphones, smartwatches, and smart TVs, advances in technology now allow you to make your home a little more clever too. These days, there's a smart version of pretty much every home device you can think of. In general, these products connect to the internet, so you can control them from your phone via a companion app.
Many smart home companion apps support voice control and scheduling, so you can easily program your devices to perform a certain action at a certain time. And not only can they help make your life easier, but they can also save you energy and money! With such a wide array of new home gadgets on the market, you might be unsure which you should invest in. In this C&G blog, we've rounded up some of the best must-have technology for your home.
Smart Light Bulbs
Light bulbs have come a long way since the days of Thomas Edison. There's now a range of these on the market, which are a great way to dip your toe into the world of smart home devices.
These lights come in a range of colours and styles, so you can create whatever look and atmosphere you like. In terms of functionality, they offer customisable scheduling, so you can set them to come on in the morning, and turn off at night to save energy. One of the best products on the market is the Philips Hue, which is easy to install, can integrate with Alexa and Google Assistant, and has in-built Bluetooth.
Smart Security
Smart devices don't just make your life more convenient, they can also make your life at home safer. There's a wide range of technology on the market for those who want that additional peace of mind.
Some of the more advanced options, including the Arlo Pro 4 and Arlo Ultra have high-quality resolution, so you can clearly see video footage in both the day and night. This is largely due to its in-built spotlight. There is also automatic zooming and motion tracking, so the source of any activity is not only detected but also followed.
With the ability to connect to wifi, users can see what's going on at home from anywhere they can access their smartphone. And with a built-in alarm that notifies you of any disturbance, you can have peace of mind - whether you're going to work, or on a long holiday.
The Samsung Frame TV
With TVs growing ever bigger, it's increasingly important that our television sets blend into their surroundings. And for lovers of art or simply those who want to up their interior decor game, the Samsung Frame TV is the obvious choice.
The only one of its kind currently on the market in Australia, this device can display artwork, photos, and slideshows of your choice while in standby mode, and comes with a customisable photo frame that will blend perfectly into your home decor.
Starting at 32 inches and going up to 75 inches in size, the image is incredibly high-quality, and the device can quickly and seamlessly be connected up to all of your streaming devices, from Netflix and Disney+ to YouTube. If you hate the sight of a big black empty TV in your home, this is the device for you.
Smart Thermostat
Back in 2011, the original Nest Learning Thermostat took the world by storm, offering Wi-Fi connectivity in a stylish device that could learn your daily routine and create heating and cooling schedules accordingly. Though not the first of its kind, this product prompted several other tech brands to create their own versions.
If you're looking to smarten up your home, your thermostat is a good place to start and can help you save money by reducing your heating and cooling costs. However, not all smart thermostats are created equal; some are designed for simple heating and cooling systems and offer basic scheduling and programming options, while others are designed for complex multi-stage systems and will control heating, cooling, dehumidifier, and ventilation systems.
Depending on your household's needs, brands to look at are the original Nest, Ecobee, Carrier, and Honeywell.
Smart Speakers
For music devotees, it doesn't get much better than smart speakers, which can entirely change the way you listen to your favourite tunes. The best smart speakers come with a voice assistant built-in, so as well as listening to your favourite playlist or album on a streaming service, you can also use your voice to control the playback: stop the music, skip tracks, or switch songs all without reaching for your smartphone.
The voice assistants in smart speakers can do more than just control the playback of music, however. They can also serve up the latest headlines and sports scores, set timers, and even tell you what the weather's like. Whether you prefer to use Alexa, Google Assistant, or Siri, there's a smart speaker to suit you.
Remote Control Shades
There's nothing more luxe in a home than remote control shades, and they've certainly come a long way in recent years. No longer are you required to push a button to order your blinds up and down, but the very smartest of them can be controlled anywhere through an app.
Having motorised shades that raise and lower with voice commands or on a set schedule is one of the best ways to create the illusion of people being home, even if you're away. Smart blinds are also an effective way to save on your energy bill, too.
Clever Kitchens
If you're an avid entertainer, then there are a few tech additions that will make your kitchen the envy of even Le Cordon Bleu. Your mornings can be transformed by a clever machine that remembers just how you like your coffee. You can talk to your microwave and control your blender from your phone. Even the humble Crock-Pot has got an upgrade.
The De'Longhi Dinamica Plus is a completely automatic coffee maker and espresso machine that remembers your go-to order - simply preset your morning beverages for your family and press a button when you're ready for your drink.
The Electrolux IQ Touch Electric Range Oven provides a sleek, modern aesthetic to any kitchen, and will make cooking everything from the weeknight meal to holiday dinners easier. The easy-to-clean cooktop surface and seven cooking modes will help even the most novice chefs prepare delicious meals.
And if you want to make your home that bit more eco-friendly, consider the Vitamix FoodCycler FC-50. This automatic composter reduces food waste, mess, and odour to break down food to a tenth of its original volume in just a few hours. With its compact size, you can fit it just about anywhere in your kitchen, which also makes it perfect for apartment dwellers.