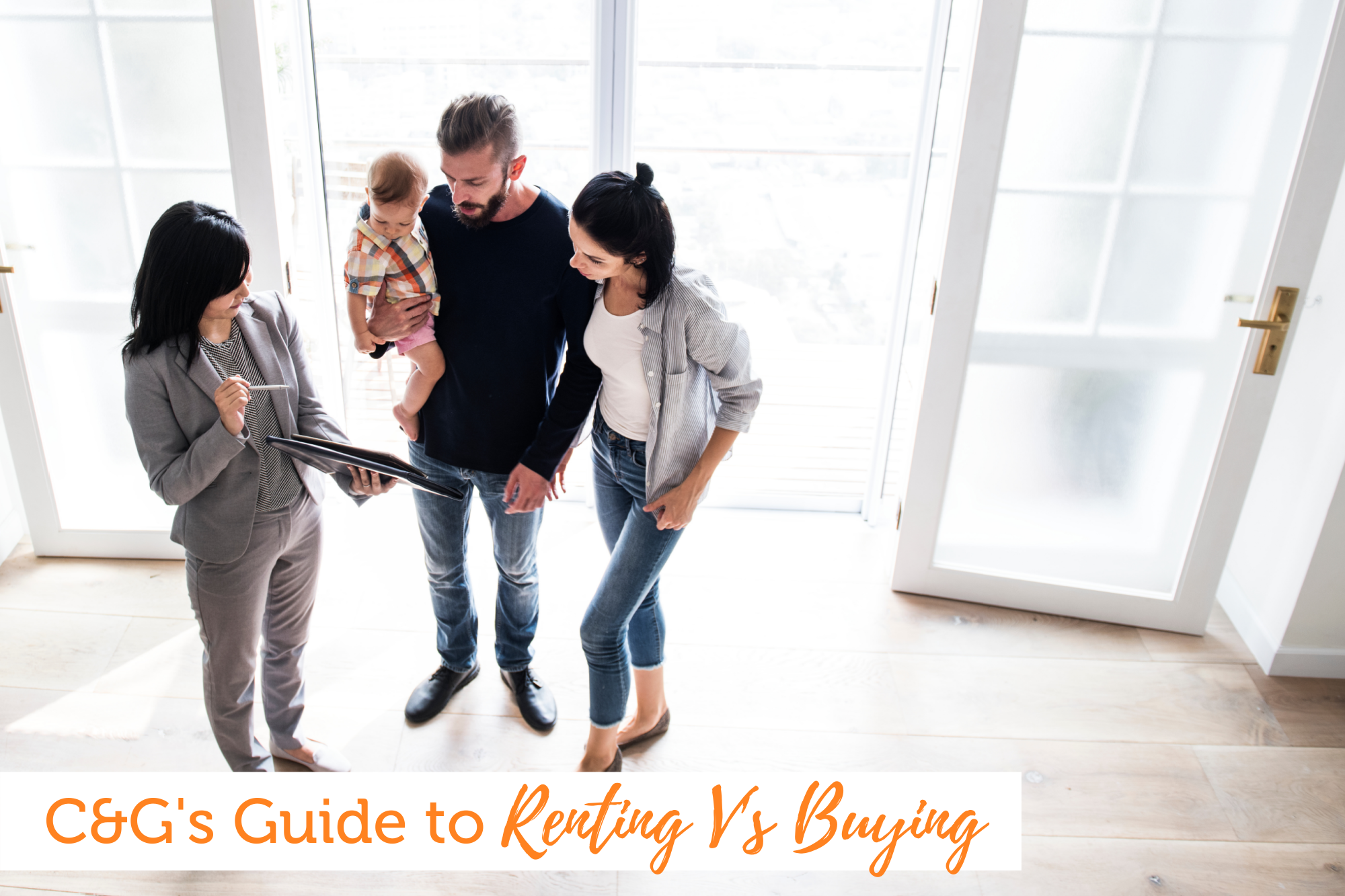 C&G's Guide To Rent vs Buying
Buying property in Australia is considered by many to be "the Australian dream", but is it always the best option? There are many benefits to renting that can sometimes be overlooked in our pursuit of homeownership. If you're currently tossing up between the two it's important to remember that there are pros and cons to both, with many key factors needing to be taken into consideration before making your decision! This C&G Blog outlines everything you need to know about renting vs buying.
PROS OF BUYING PROPERTY
Build your equity faster
Your equity is the amount of money that you have already paid off your mortgage. As your home increases in value over time the greater your equity will be, giving you many more options. You could plan to sell and buy a larger home, downsize and keep the extra profit, or refinance your loan to reduce the interest rates on your mortgage in order to build equity faster. Larger equity will also have a positive effect on your credit score, making it much easier to take out loans in the future.
You get to be in control
No matter how much we plan, life always finds a way of surprising us! If you suddenly find yourself heading in an unexpected direction, like needing to relocate for a new job or requiring more or less space due to changing family dynamics, owning property puts you in total control of your next move.
More control also means that your home is exactly that - yours! Homeowners have the freedom to redecorate and renovate as much as they like.
Long term security for you and your family
Many homeowners are motivated by the desire to ensure that their family has a sense of security and stability. You might want to choose your home in the same suburb as your children's school, be close to your extended family, or ultimately just want your home to feel secure. Owning property means that you'll never be told that you need to move (as long as you're able to meet all of your financial obligations.)
PROS OF RENTING PROPERTY
More short term flexibility
While homeownership means you won't need to sign a lease agreement that commits you to remaining in a property for a certain period, selling a house and relocating is still a timely (and expensive) commitment. Lease agreements are generally between 6 and 24 months, meaning that you'll have much more freedom to move from place to place much faster. You may only want to rent for a brief period while you decide on your next move, or determine whether a particular area is right for you before deciding to stay there permanently.
Monitor the property market
Renting is a great way to bridge the gap between properties and enter the market on your own terms. If you're determined to buy but want to wait to find the right property at the right time, renting allows you to be picky without the responsibility of a mortgage or maintaining a property.
Time to save money
Saving up for a deposit takes time, and you'll need somewhere to live while you work towards your goal! Renting is almost always the more affordable option. Which brings us to…
CONS OF BUYING PROPERTY
Hidden costs of homeownership
Homeowners need to be prepared for the costs involved with maintaining a property. While tenants only need to pay a temporary security deposit on top of their monthly rent payments, being in the driver's seat means shouldering the responsibilities of your home. Along with paying off your mortgage, you will also need to pay council rates, utilities, general upkeep and any unexpected damage or issues with the property, like plumbing and electrical issues, termites, weather damage and more. Be sure to talk to a finance expert and make sure you're in a position to cover these costs.
CONS OF RENTING PROPERTY
You're paying someone else's mortgage
While renting can help you save for your first home deposit (as we mentioned above), it isn't an effective strategy in the long term for building equity and increasing wealth. Not only do rent prices increase over time,it's also a possibility that you might find yourself needing to relocate if the owner decides to either sell or move in themselves, which can eat through your savings.
The verdict?
There are clear positives and several drawbacks for both renting and owning property. While renting is definitely the more accessible option for many Australians, it can't be denied that homeownership is a milestone worth aiming for! The best option is entirely dependent on you and your circumstances. Be sure to seek out the advice of a finance expert before making any major decisions.
The team at C&G are always happy to chat to you about your options - get in touch today!