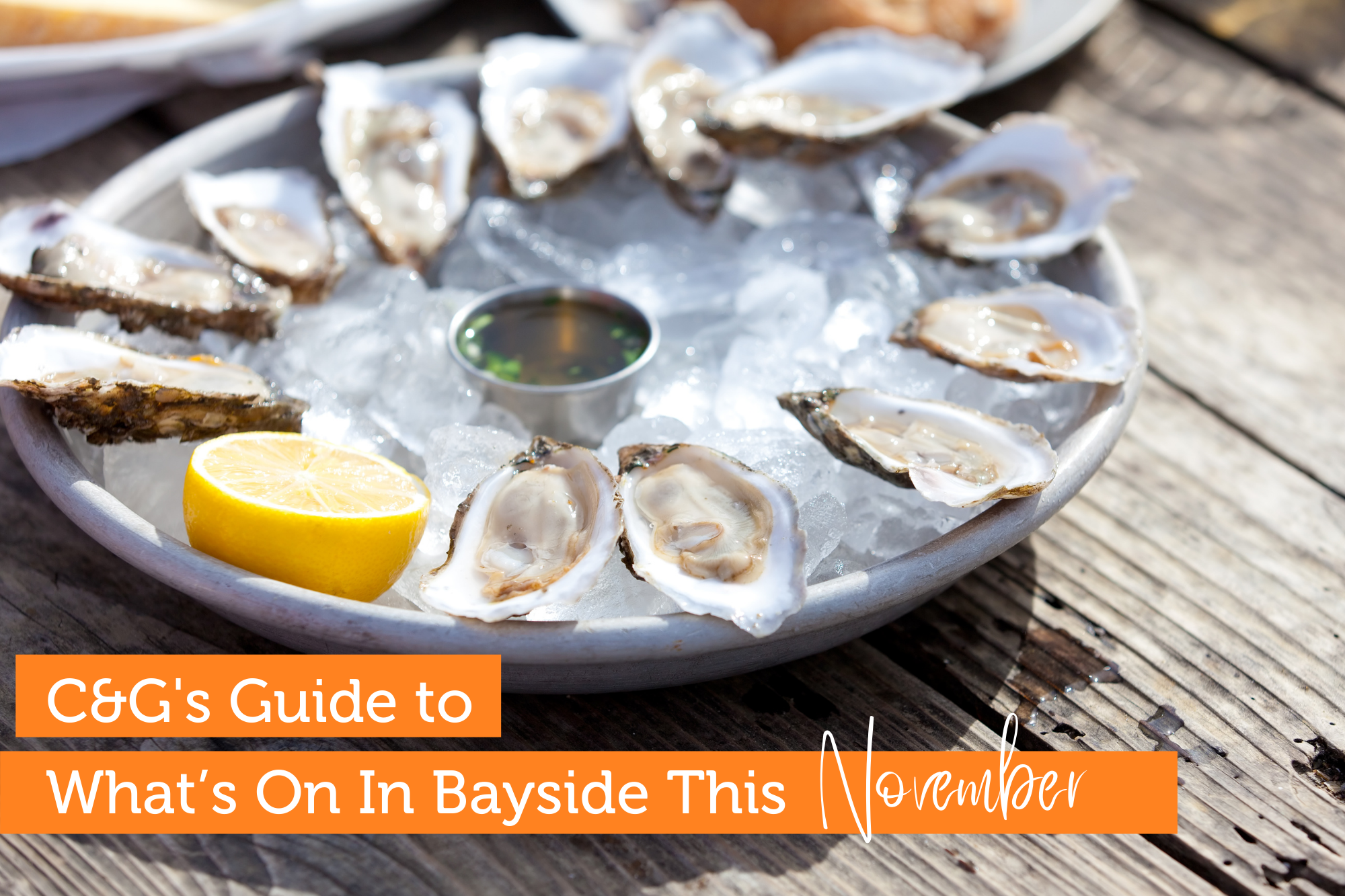 C&G's Guide To: What's On In Bayside This November
The weather is getting warmer, and so is the atmosphere in Bayside! There's so much to see and do this month as businesses and council facilities re-open, including Bayside Libraries, Bayside Galleries, and Bayside Toy Library. In this C&G Blog, we recommend the best activities to keep you and your family entertained this month in Bayside!
Still-life drawing with Michelle Zuccolo
This workshop with Bayside resident artist and art teacher Michelle Zuccolo is perfect for those who found their creative side during lockdown! Participants will undertake a series of practical tasks to encourage drawing still life objects from observation, cultivating memory and reflection. By focusing on colour, form, space, and shape, you'll explore the functions of artistic elements, design principles and composition. Improve upon your art skills and build confidence in an environment that encourages experimentation, risk-taking and creative thinking!
Cost: $30 per person
When: 20th November 2021
Where: Bayside Gallery (Cnr Wilson and Carpenter Street, Brighton)
Time: 2:00PM - 4:00PM
Teddy Bear Picnic
One for the whole family to enjoy! This wholesome day out will celebrate Bayside Gallery's latest exhibition, 'The Soft Library' by Cat Rabbit. Join the artist Cat and the "Liberians" for a morning of bear-themed fun and entertainment, including face painting, music and storytime! Be sure to bring along a picnic rug!
Cost: Free
When: 26th November 2021
Where: Brighton Town Hall (Rose Garden & Wilson Street, Brighton)
Time: 10:00AM - 11:30AM
'Oyster Fridays' at Tide Fish Bar
Tide Fish Bar is the latest fish'n'chipper to open up in Bayside, and we can't wait to try it! The store is the latest offering from restauranters Bill and Mary Solos, who are also responsible for popular Brighton haunts Ten Greek Plates and Mastic Food and Wine. The couple is offering old school style, Aussie and New Zealand-sourced fish and chips, served either grilled or fried in crispy golden batter. There are also crowd-pleasers such as hulking hand-cut potato cakes, flash-fried calamari, and tempura-battered prawns and scallops. Like their other locations, Tide's menu has a Greek-inspired flair - a testament to the Solos' heritage. To get ready for summer, they've also launched 'Oyster Friday's - $3 oysters every Friday from noon until they're sold out!
115A Martin Street, Brighton
Order via:
(03) 9995 8248 or tidefishbar.com
St Kilda Esplanade Market
We've missed the markets! St Kilda hasn't been the same without them, and we're so happy to see them return every Sunday this November! Set against the iconic backdrop of St Kilda Beach, the markets are a great day out with family, friends and pets! The vibrant makers market features over 100 unique stalls of handcrafted artwork, wood products, jewellery, accessories, children's toys, clothing, artisan food products and more. Be sure to grab a bite to eat from the foodie zone area, which offers an assortment of delicious culinary treats from around the world.
The Esplanade, St Kilda VIC 3182
Bird Life Observation Walk at Rippon Lea Estate
Guided by bird expert Gio Fitzpatrick, explore ​​the stunning sights and sounds of the Rippon Lea Estate and learn about many of Australia's most beautiful native birds. An average tour routinely records up to twenty different bird species with up to twenty bird species, and sometimes more! You'll feel like you've stepped several decades back in time as Fitzpatrick will help you identify each bird while entertaining you with their stories and relating them to a broader environmental context. City of Glen Eira and Port Phillip residents are eligible for discounted entry! More information
PRICE: $13 - $20
WHEN: November 11 - 30
WHERE: Rippon Lea Estate (192 Hotham Street, Elsternwick)