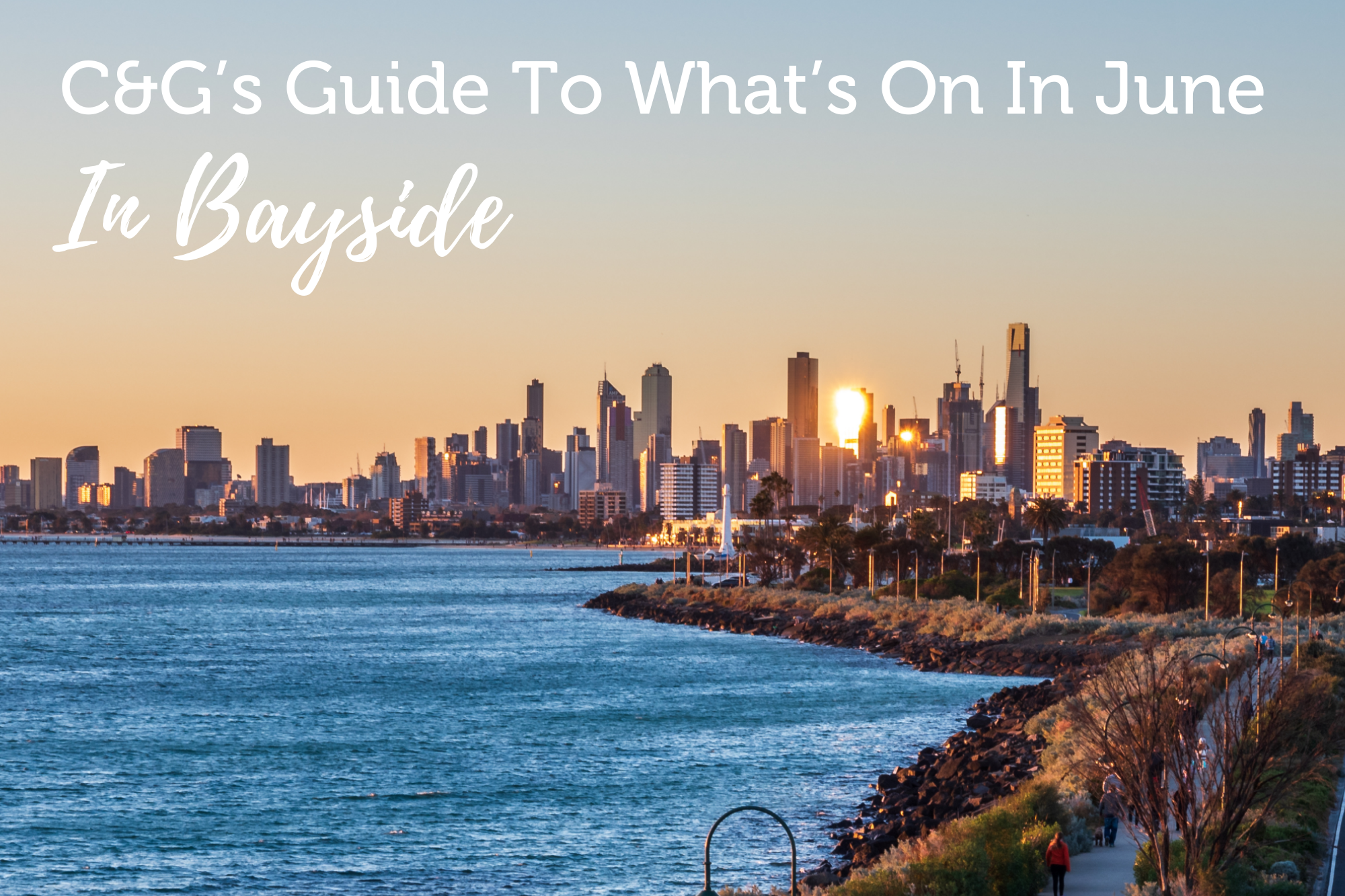 C&G's Guide To What's On In June
Winter has arrived in Bayside! The cooler months offer the opportunity to explore a different side of the Bay. Whether you're wanting to seek out the best lookout spots for a gorgeous winter sunset, hoping to entertain the kids to help them beat the winter blues, or simply excited to rug up next to the fireplace with a mug of mulled cider or glass of seasonal wine - this C&G Guide will help to keep you busy this June!
Take in a stunning winter sunset at Point Ormond
The best time to watch the sunset is during the winter, thanks to the cool and dry air making it easier to see the colors of the skyline in all their intensity. There's no better place to see a stunning Melbourne sunset than Point Ormond! Positioned between Elwood and St Kilda beaches, this gorgeous spot is generally less busy than the St Kilda pier, and offers a breathtaking view of the entire bay and Melbourne's CBD. It's also a great place for a bike ride or a picnic during the day thanks to the open space, bbq facilities and children's play area.
Sip on mulled wine by the fireplace at The Milton Elwood
One of Melbourne's best wine bars, The Milton is a year-round favourite thanks to an impressive list of local and international wines and delicious seasonal tapas menu, as well as the best cocktails in Elwood. However we're especially fond of The Milton in the wintertime thanks to their gorgeous fireplace! The perfect location to warm up with a light snack and a hot mug of mulled wine or cider after a trip to the beach or nearby St Kilda pier.
Explore the best dog-friendly drinking spots in Port Melbourne with a puppy pub crawl
The only thing better than a Sunday afternoon session over beers, wines and cocktails is a Sunday session involving dogs! Your dog will love getting to take in the sights, smells and treats of some of Port Melbourne's best dog-friendly bars, while you get to enjoy a delicious range of food and drinks while getting to know other local dog owners. Over the course of the afternoon while under the guidance of the expert team at Puppy Pub Crawls you'll visit a beer garden, a craft brewery and finish at a cozy cocktail & whisky bar. Walking distance is just one KM! Don't worry if you don't have a pooch - dog lovers are also welcome!
When: Sunday 5 June, 3:00 PM - 6:30 PM Location: Various More details
Take the kids to a theatre performance of Little Red Riding Hood in Hampton
Favourite Tales Theatre is one of Melbourne's leading children's theatre companies, with over 20 years of experience bringing beloved classic tales and characters to life! They're returning to Bayside on the 12th of June for a special free performance of Little Red Riding Hood at the Oxford Theatre in Hampton. While the show has been designed for kids aged 3-10, the experienced actors adapt to the children's interaction throughout the performance, creating a unique experience that will entertain people of all ages! Tickets are $15 per person, kids under 2 free. Bookings are essential.
When: Sunday 12th June, 2:30 PM Where: The Oxford Theatre (17 Service Street, Hampton) More details
Get crafty for the environment with Bayside Council's online workshops
Avoiding waste and ditching single use items wherever possible is the best thing we can do to reduce our waste footprint and preserve our precious environment. In the lead up to upcoming bin collection changes in Bayside this July, the council is providing a series of workshops encouraging waste avoidance. One of the first workshops focuses on learning how to make reusable nappies for your kids! As well as learning how to make them, you'll also hear about the economic and environmental benefits of cloth nappies, tips and tricks for washing and maintaining them, and how to make the switch to using other cloth-based items around the home.
When: Wednesday 22 June, 7:30 PM - 9:00 PM Location: Online More details
Take a guided walking tour exploring Port Melbourne's architecture
Join Janet Bolitho for the 'Spirit of Port' walking tour and discover the rich history of Port Melbourne's stunning architecture, heritage, communities and places reflecting belief, faith and service. Start and finish locations will be advised closer to the date - be sure to book your free spot as space on the tour is limited.
When: Sunday 26 June, 2:00 PM - 4:00 PM Location: TBA More details